Today in celebration of the life of VHS Alumni Kelsey Reed, we are proud to release the Kelsey Taber Reed Memorial Scholarship! Please join us today in celebration by being mindful to those we cherish. All applicants must be a VHS senior athlete. The deadline is March 8, 2023. Please see Mrs. Hardemon for the application or send a request via e-mail to
bhardemon@vpsd.org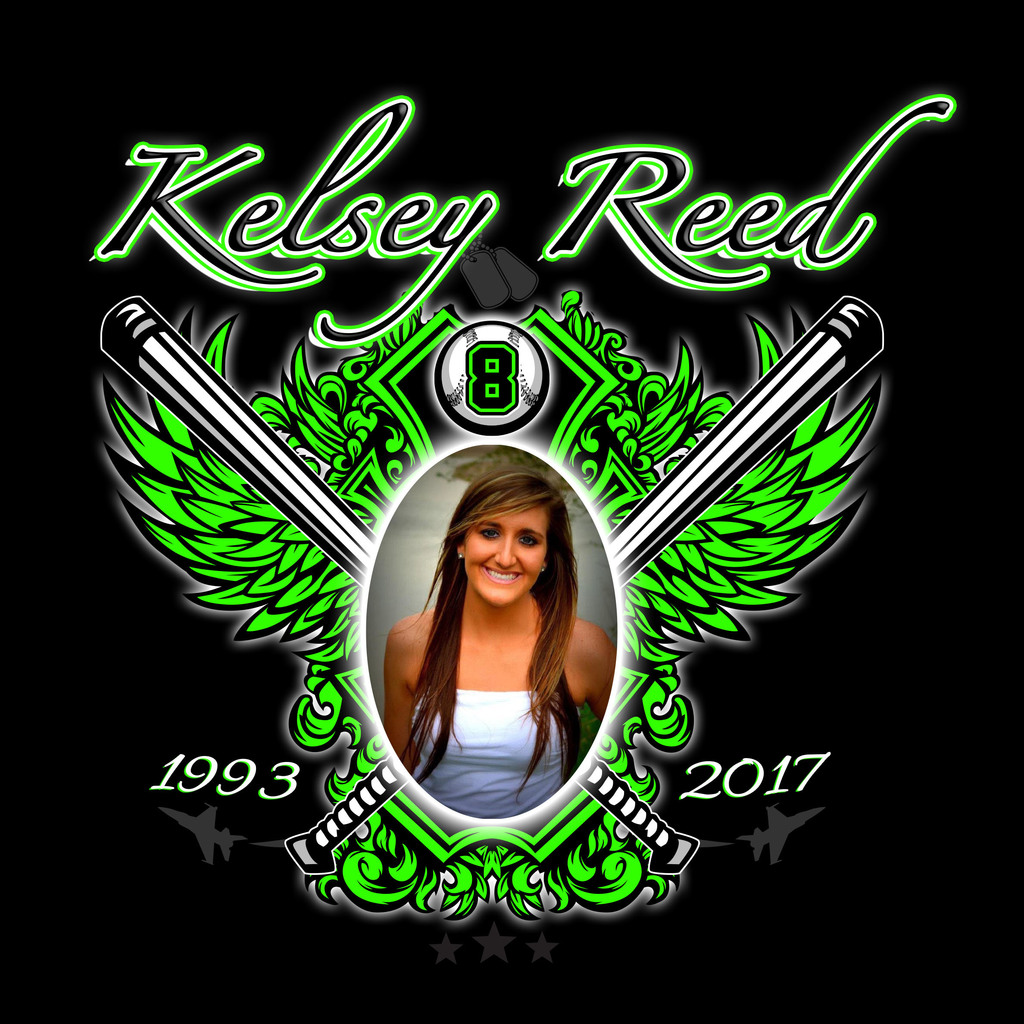 Congratulations to the middle school academic team for receiving District Runner-up! Go Bulldogs Go! #WeAreValliant #MiddleSchoolRocks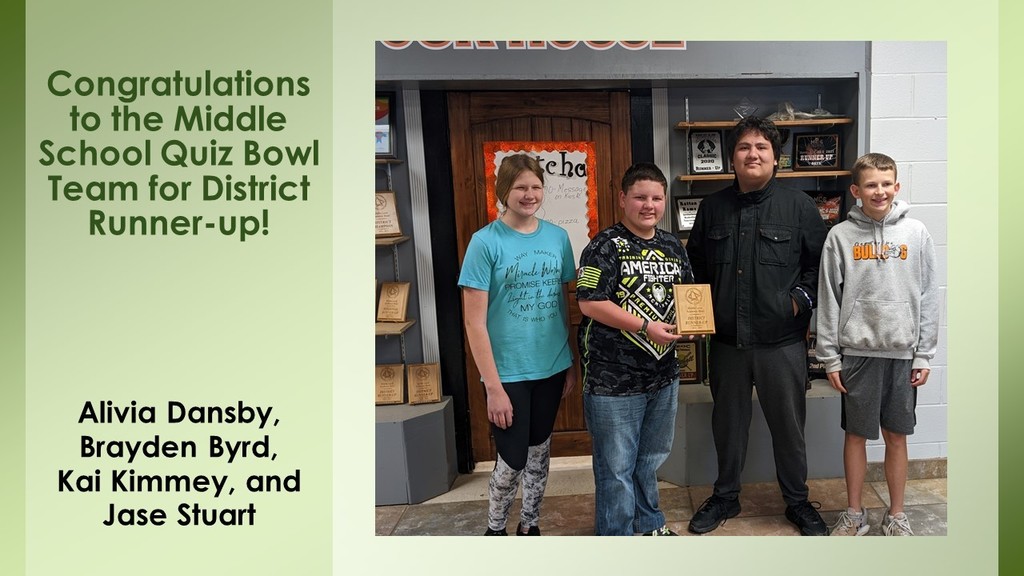 Join us in congratulating the following All District Award winners for Valliant Football 2022! Top Picture is the first team: Newcomer of the Year-Kenny Golston, Receiver-Joseph DePriest, Cornerback-Jay Frost, Safety-Dylan Connell, and Outside Linebacker-Darius Cherry. Bottom Picture is Honorable Mentions: Brayden Jones-OLB, Case Carlisle-QB, Landon Lowrance-LB, Hayzn' Harmon-OL, Garrett Cunningham-OL, Colton Matlock-LB, Dakota McDonald-OLB, and Hunter Burgess-OL. Not Pictured: Jordan Phelps-OL Congratulations to these young men for being recognized and our Valliant Bulldog Football Team on their successes this year!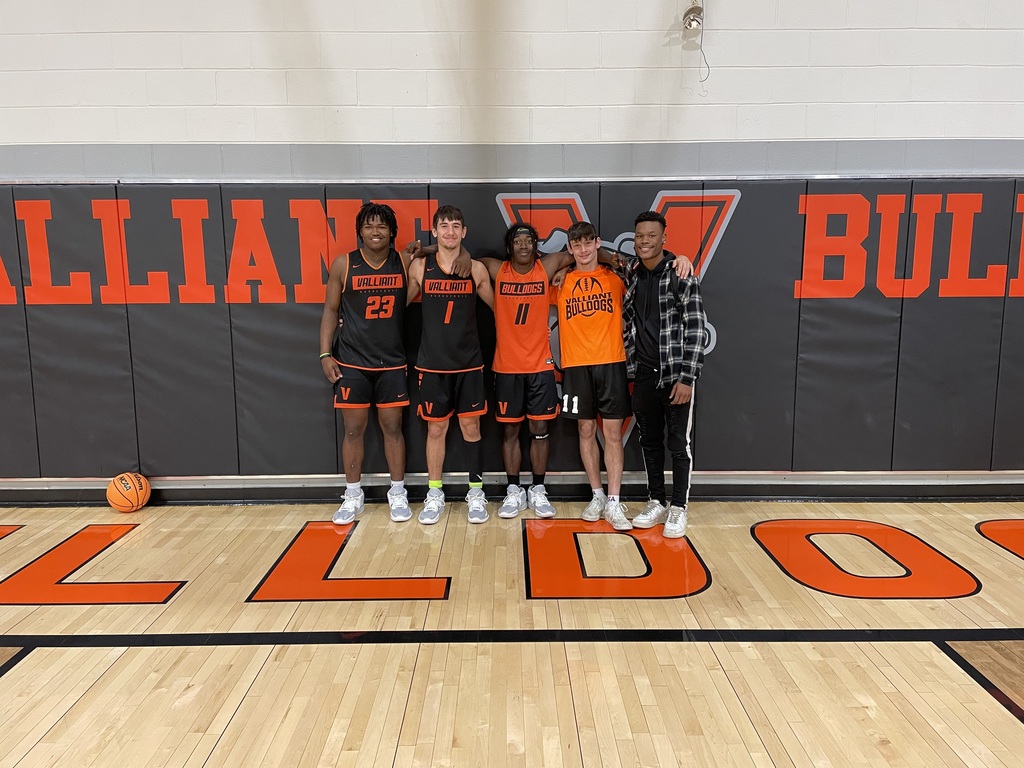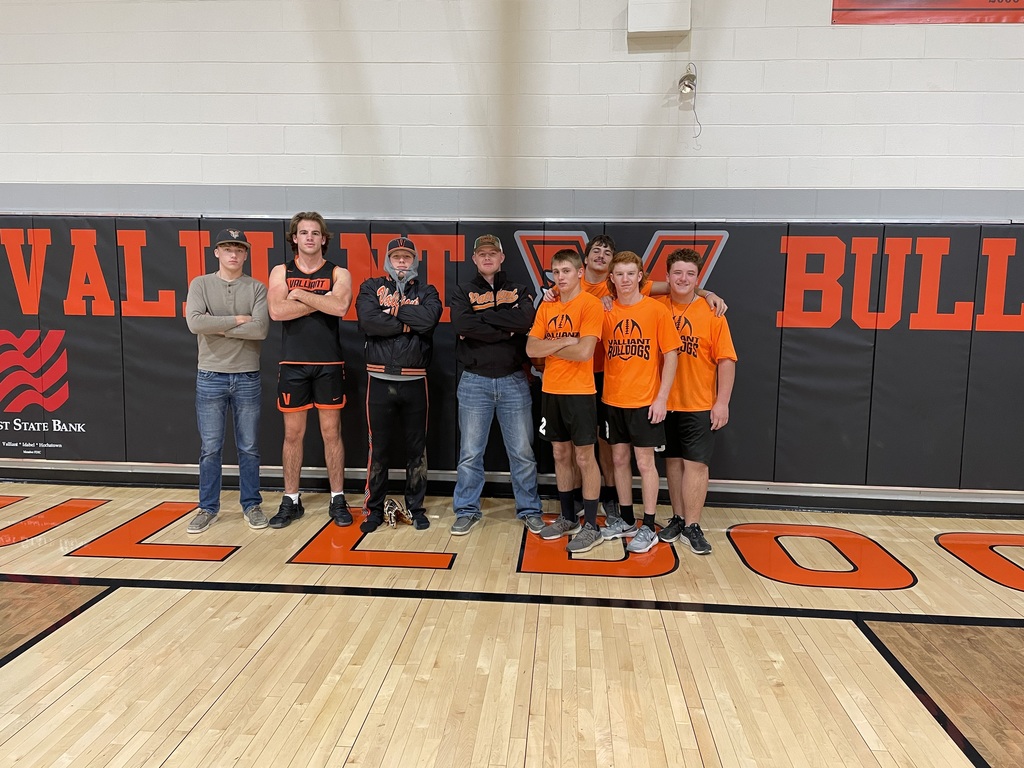 Valliant JOM/Title VI Parent Committee meeting will be held Thursday, December 8th, 2022 at 3:00 p.m. in the Valliant Cafeteria to review the budget and schedule dates for student activities/meetings. All parents or guardians of JOM students are invited to attend. For more information contact Linda Coffman at #580-933-7232 or
lcoffman@vpsd.org
Dr Bob Mooneyham Memorial Scholarship for Future Teachers. Application and Essay due January 13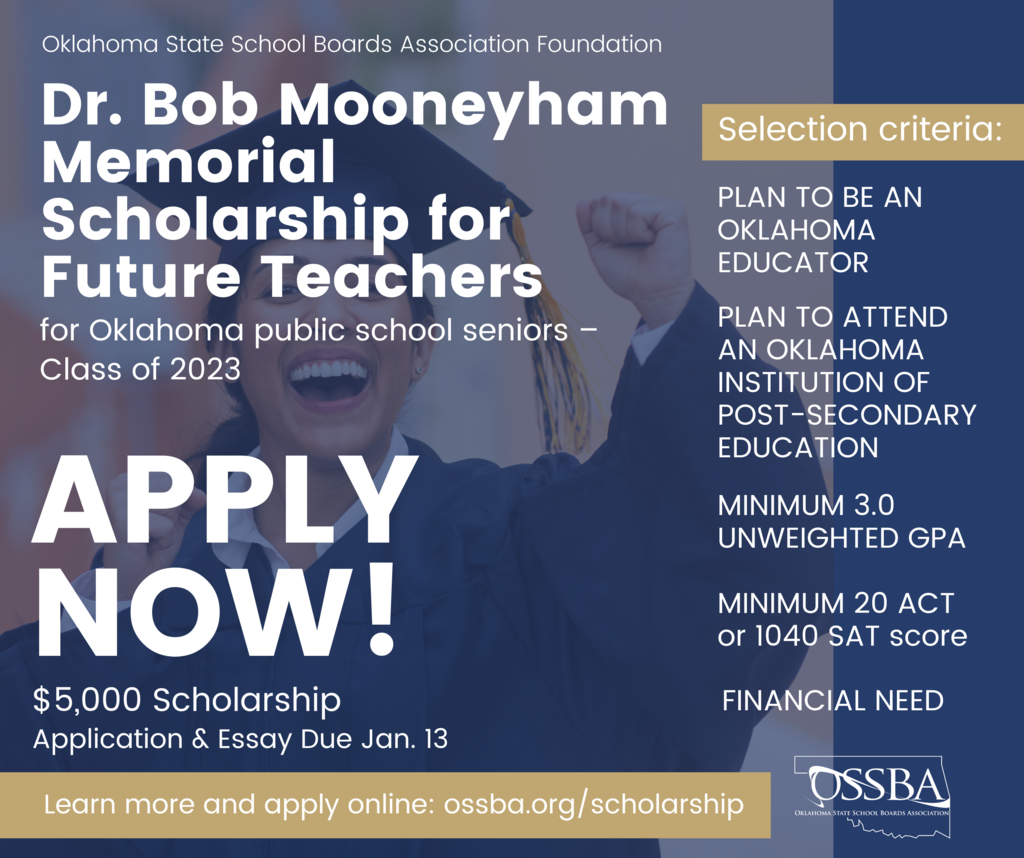 Congratulations to our VHS Cheer Team! This past Saturday, they finished 8th at Regionals which qualified them for State! Tomorrow we would like to recognize and honor our Cheer Team. Let's come together as a Bulldog Family and show our Bulldog pride by wearing orange and black and fly those Bulldog flags as we give them a spirited send off! Let's rally behind our Cheerleaders and show them the support that they show each one of our teams. Cheer Team State Send Off 1:00 at the Bus Lane Wear Orange and Black They perform Saturday at 3:00 pm at Moore High School

Middle School Tournament Update: November 9, 2022 Valliant Boys will play Wright City at 11 am for 3rd place Valliant Girls will play Smithville at 12 for the Championship

The high school football game scheduled for tonight has been cancelled. The game has been tentatively rescheduled for tomorrow Saturday Nov 5th at 1:00 pm.

The senior night ceremony originally scheduled for 6:00 pm tonight has been cancelled. This event will be re-scheduled for a later date. We are going to attempt to kick-off the last district football game tonight at 9:00 pm pending weather.

Valliant Boys and Girls Club is cancelled for this afternoon due to weather. Friday Nov 4th.

ATTENTION: Due to the probability of severe weather, the Valliant Middle School basketball tournament has been cancelled for today, November 4. Games are being rescheduled for Wednesday, November 9. Attached is a new bracket of games & times.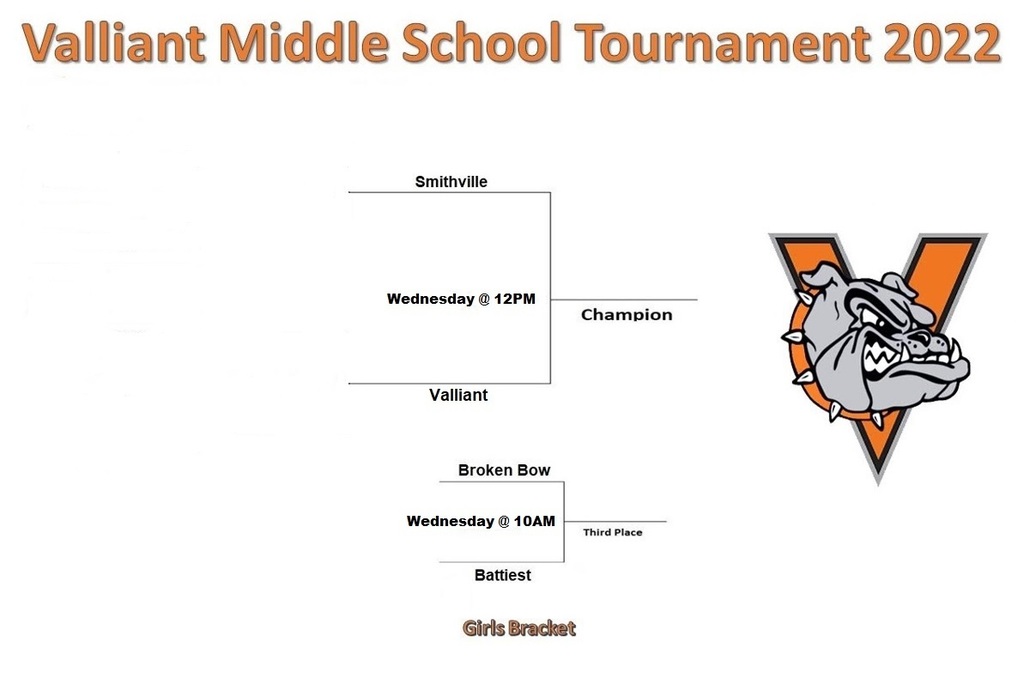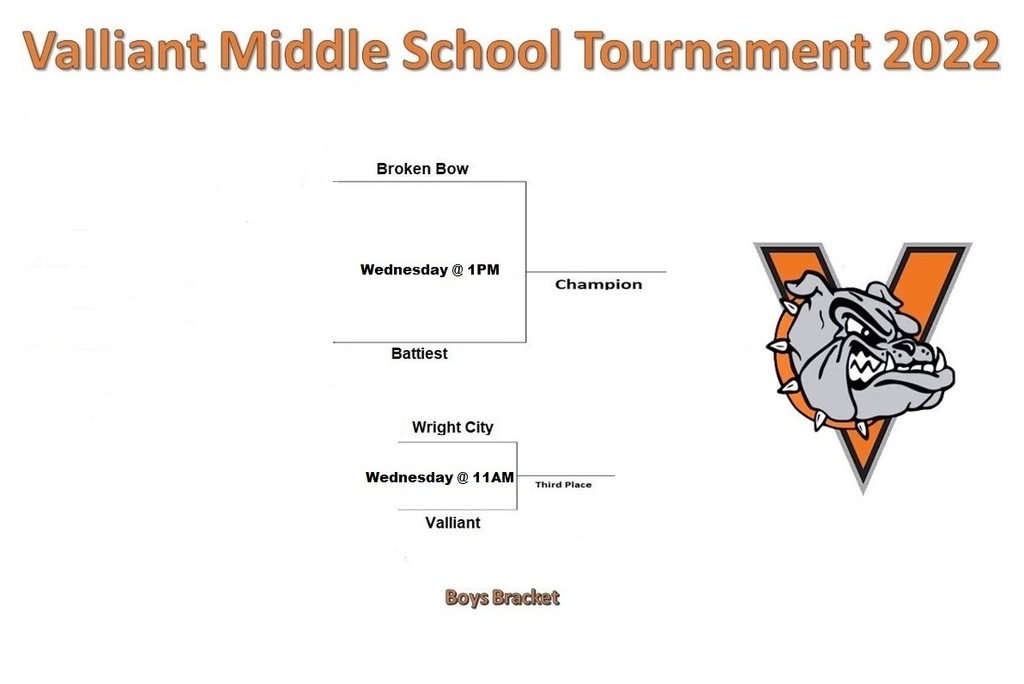 Due to the timing that the strong storms are expected to hit today, we will be dismissing at 1:20. Busses will depart at 1:30. Please be weather aware. Our safe rooms will be open and available if you need to take shelter. The middle school tournament games will be rescheduled for Wednesday November 9th beginning at 10:00 am and the last game expecting to start at 1:00. At the time of this message football is scheduled to play. Please continue to monitor our face book, webpage, and app for the latest information. VPSD.org
Senior Night will now be at 6:00 pm, Friday in the High School Auditorium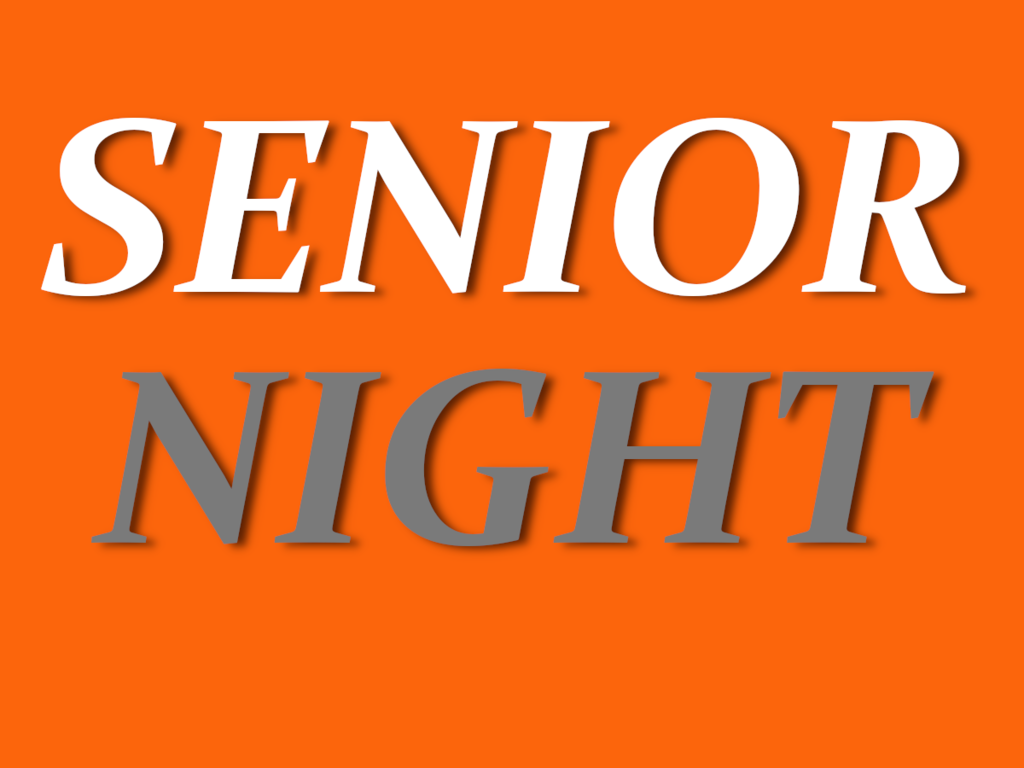 Severe weather plans for Fridays athletic events are attached. The senior night ceremony has been moved to the auditorium at 6:00 pm.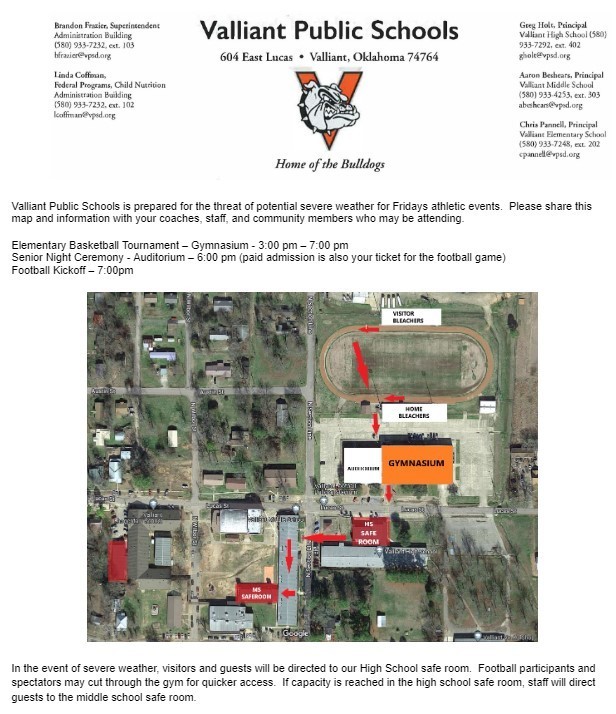 The middle school will be having a canned food drive for the Valliant community during the week of November 7-10. Non-perishable canned food will be collected by the first (1st) period teachers. The class with the most canned food items by November 10 will receive pizza and a drink for lunch on November 11. Please, if you can, donate some non-perishable canned food for those in our community who are in need. Thank you all in advance.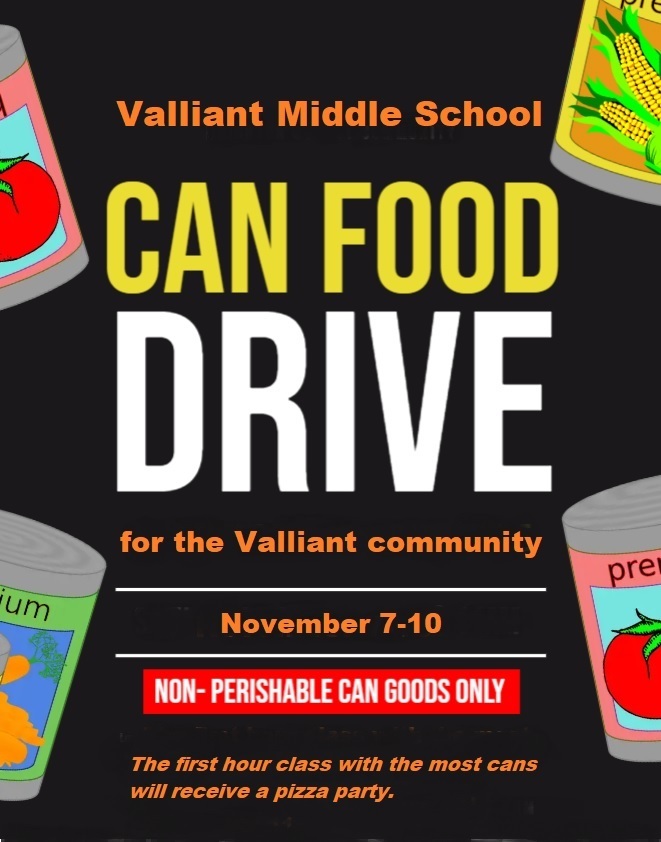 REMINDER - Today is FAFSA Night from 2:00-6:00 in the High School Safe Room This is for Seniors graduating in 2023

The middle school 6th grade basketball tournament will be November 1, 3, and 4 at the Valliant Bulldogs Gymnasium. Admission will be $3 for adults and $2 for students. For game times, please see the attached brackets. We hope to see you there.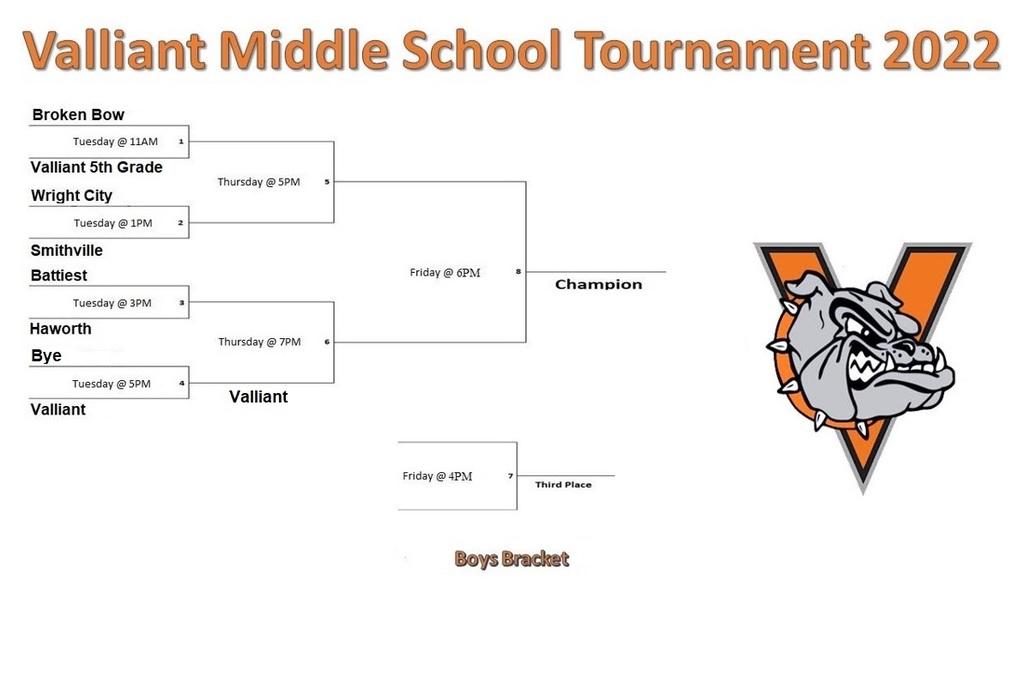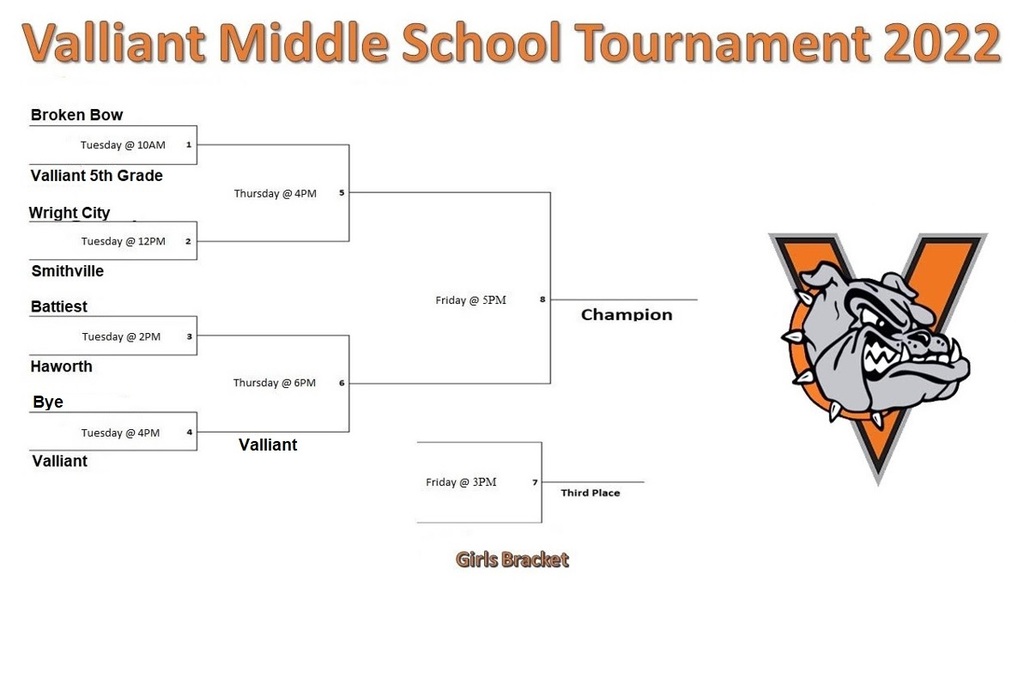 A representative selling School Letter Jackets will be here 11/1/22 and have a table set up during lunch To order you will need to submit a form and a $100 deposit. Pre-fill order forms, browse design options and views products at
http://ssroklahoma.com/


Red Ribbon Spirit Week is October 24-28 in the middle school. Please see the attached image for more information. Each day will have a specific theme along with educational opportunities for all the middle school students. Help the middle school say no to drugs!